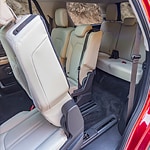 SUVs continue to be popular vehicles, and would-be buyers may see a wide array of these vehicles on Lafayette, IN roads. Sports utility vehicles gained a tremendous following for several reasons. A potential buyer might move towards purchasing after reviewing some benefits.
The most apparent benefit is cargo space. SUVs come with a significant storage area, meaning drivers could store everything from luggage to equipment to pet travel cages. The seats fold down to make more space, which highlights another benefit. Those seats contribute to significant passenger space. Both driver and passenger could travel in comfort, thanks to the interior dimensions and design.
SUVs come in different sizes, so buyers might choose a compact or full-size model. SUVs could be great choices for daily commuting or adventuring, and buyers might pick the most appropriate model for the intended tasks.
Lewis Motor Sales Inc is home to a selection of SUVs. Buyers may inquire about the inventory at any time.