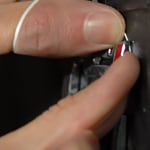 Debadging removes "landmarks" on your car's surface that trap wax and dirt. Careful debadging leaves a smooth, seamless clearcoat behind. What exactly does debadging entail? The service techs in our Lafayette, IN Lewis Motor Sales Inc service department compiled this quick tutorial.
Car Debadging 101
To ensure a clean work area, wash the badge and the area around it with a microfiber cloth and soapy water or your favorite exterior detailer. Heat the badge adhesive with a heat gun (optional). Using a flossing motion, ease durable fishing wire beneath the badge, gently loosening the badge and pulling it toward you.
Finishing Up
Using the short, lateral side of a drill buffer, buff away any remaining adhesive. Sand the residual debris with soapy water and sandpaper (3,000- to 5,000-grit). Repeat the heat gun, buffing, and sanding phases until all of the badge adhesive vanishes. Apply polish to restore the sanded badge area's former shine. Finish with your favorite car wax or sealant. Use bone-dry microfiber cloths for the polishing and waxing steps.