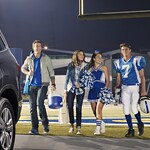 The time has come for your youngster to hit the road in Lafayette, IN. As exciting as it may be, every parent wants to ensure they are putting their teen in the safest car possible. To find the perfect fit for your child, there are many objectives to consider when choosing your teen's first car. Not only do you want something that can possibly get dinged up, but you also want it to be safe, sound, and practical.
Fuel efficiency is probably at the top of the priority list for features to look for in your teen's first car. They will likely be driving frequently to show off their new skills, so you want something that will not hurt the pocketbook. Considering a car that will have affordable insurance rates is also something to consider.
When you put your child in their first vehicle, you also want it to be reliable. Finding the perfect balance between affordability and durability is key. Remember that this is just your child's first vehicle, and they can always upgrade later. Find your teen's first car here at Lewis Motor Sales Inc today!