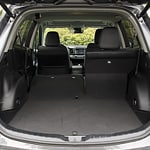 At Lewis Motor Sales Inc, we want our customers to pick a vehicle that suits their needs and budget. There are many crossovers on the road in Lafayette, IN because they have much to offer, such as efficiency, flexibility, and capability.
Large SUVs take a significant amount of gas, but crossovers are much more fuel-efficient. Some motorists choose crossovers because it saves money on fuel and lessens greenhouse emissions. Crossovers are very capable. With a crossover, you can maneuver in busy traffic easier than if you're in a bigger SUV, and it's easier to parallel park in a tight spot if you're in a crossover.
Crossovers are flexible. You can fold the back seats of a crossover for additional cargo space. In fact, some crossovers are designed with multiple seating and cargo configurations. Some crossovers are designed with available performance-enhancing features that improve all-terrain capability. There are many crossovers with 4x4 systems and all-terrain features.