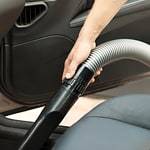 At Lewis Motor Sales Inc we know how important it is for some drivers in Lafayette, IN to travel with their pets. Pet hair can become a problem if not managed properly. Here are a few basic tips for controlling pet hair.
Prevention is always the best solution. You can invest in shampoos that will reduce shedding. Brushing your pet on a regular basis will also help to remove dander and pet hair. You may want to talk to your vet in Monticello, IN to discuss treatments that will minimize shedding, but try to accept that some breeds will shed more hair than others.
A good car vacuum will help remove pet hair, and you can also use other methods. One of the favorites is a balloon. Rub the balloon to create static electricity and then pass the balloon over the seats. You can also purchase seat covers for your vehicle.