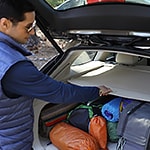 After spending weeks planning a road trip or vacation, do you find loading the cargo into your SUV frustrating? Often, it's nearly impossible to fit everything into the cargo space. But Lewis Motor Sales Inc in Lafayette, IN is here to help.
Be sure to distribute the load evenly, and always place the heaviest items on the bottom. The goal is to keep the cargo from shifting, especially if the driver needs to brake suddenly. Consider investing in cargo straps to keep everything in place. Never stack anything so high that it blocks driver visibility. On average, most SUVs around Frankfort, IN can safely hold a maximum of 165 pounds. But refer to your owner's manual for the precise weight specifications. A good tip for packing clothes is to roll the items rather than fold them.
For the best results, practice a few days before departing. Waiting until the day of departure may cause you to make foreseeable mistakes. Remember, safety is paramount above anything else.