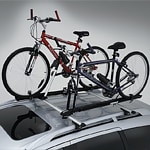 Do you know how to secure the items on your roof rack? It's a common concern for drivers in Lafayette, IN, and around West Lafayette, IN. However, it is relatively easy, and Lewis Motor Sales Inc is here to ensure you know how to do it safely.
One of the most frequent mistakes drivers make is overloading the roof rack. Nothing should be overhanging, and the combined items should not exceed the manufacturer's specifications. While some drivers use red flags for overhanging items, Lewis Motor Sales Inc recommends that you don't adhere to that strategy. Instead, use tie-down straps and ensure the roof racks are correctly set and wide enough for evenly supporting the items. And only use elastic straps or ropes as a last resort, in an emergency, or for a backup.
Lastly, be sure your roof rack meets the automakers' specifications for your model, especially used vehicles. It is not uncommon to have aftermarket roof racks installed. Therefore, ensure it's safe before using.