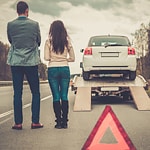 Driving is something that many people in Lafayette, IN do daily. Unfortunately, there are quite a few things that can go wrong while on the road. That is why the team at Lewis Motor Sales Inc recommends building yourself a roadside emergency kit.
First, gather some simple tools. Jumper cables and a tire pressure gauge should be included, along with a small toolkit with a screwdriver, pliers, etc. A pocket knife can come in handy as well. Be sure to include roadside flares or LED reflectors to help alert drivers to your location.
Second, think about what you may need while waiting for help to arrive. It is a good idea to have a well-stocked first aid kit, along with plenty of water. Non-perishable food should be included in your roadside emergency kit as well. Do not forget to include a flashlight and extra batteries, plus a blanket to keep you warm.