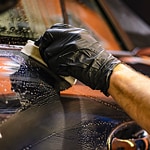 Do you ever wonder how some drivers in Lafayette, IN are able to keep their vehicles looking clean? Lewis Motor Sales Inc recommends professional detailing, but you can also use some car detailing tips at home to preserve a great look.
Most professionals would recommend that you wash your car once every couple of weeks. Too much washing can break down wax and dull a finish. Too little allows road grime to build. Strive to find that sweet spot based on your own driving activity. If you have your vehicle detailed on a regular basis, these regular washings will extend the benefits of the detailing.
Another simple car detailing tip is to regularly rinse your sponge as you clean. This will help to remove any debris from the sponge that could scratch your finish. Also, spending a little bit more on better sponges and cleaning cloths has merit.