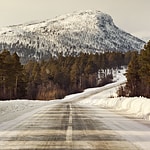 Drivers who like to be prepared should have a winter survival kit on hand this time of year. Lewis Motor Sales Inc understands that you may not have a lot of room to store things in your vehicle, which is why we wanted to talk about the most important things to include. Here is what we feel is the most important for Lafayette, IN drivers to carry.
Staying warm and safe is the top priority, which is why a blanket, hat, and gloves are all necessary. You may find yourself stranded waiting for help, which is where having a bottle or two of water and some snacks will come in handy. Disposable harm warmers are typically cheap and will not take up too much space.
An extra cell phone charger that does not require your car to be running to work is beneficial. You should also have a flashlight, plus extra batteries. These things can keep you safe until help can arrive.