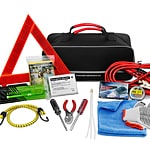 At Lewis Motor Sales Inc, we recommend customers always include an emergency bag in their vehicles if they have a roadside emergency. Every emergency bag should have a few simple tools you might need to fix simple problems and a first aid kit.
Make sure you pull over as far off the road as possible. If you are on the highway, pull onto the shoulder. If you are on a city street in Lafayette, IN, try to pull underneath a light. This will increase your safety, especially in a high-crime area.
Turn on your hazard lights. If you have any traffic cones or flares, consider putting those around your vehicle to alert oncoming traffic.
The next step should be to decide whether you can repair your vehicle. If you are in a high-traffic area or it is a complex mechanical problem, you should consider calling for help.