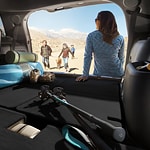 At Lewis Motor Sales Inc, we want to help motorists stay safe on daily drives and road trips. Taking a road trip out of Lafayette, IN can be a fun-filled experience if you prepare properly. Here are some safety tips to keep in mind when you're planning your journey.
Be sure that your vehicle is running smoothly before you depart. It's a good idea to have your oil and transmission fluid checked, and you should also have your tires checked to see if they need to be rotated or inflated. A vehicle inspection will give you peace of mind that your car is safe before you start your road trip.
An emergency kit is essential for safe travels. If your vehicle breaks down, an emergency kit can help you and those around you stay safe until help arrives. Flashlights, batteries, bottled water, nonperishable food, towels, flares, and jumper cables are some items to include in your kit.