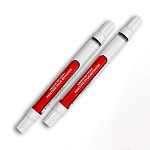 Touching up automotive paint isn't a quick and easy process. If Lafayette, IN drivers want a smooth, seamless finish and virtually undetectable applications, they have to take all of the necessary steps. At Lewis Motor Sales Inc, we want to detail several reasons why do-it-yourself paint repair isn't always the best idea.
There's Sanding Involved
For seamless application, your chosen paint color should be applied in a number of thin layers. When you're done, you'll need to sand down the edges of your patch using a fine-grit sandpaper. The challenge here lies in removing excess paint without damaging the paint around it.
Prepping the Work Surface Is Harder Than You Think
No paint job should be gotten underway without first prepping the surface of the item being painted. With automotive paint, this often means stripping away both dirt and grease or other oily substances. While you may get rid of all dirt and oils, you have to be especially careful to not leave towel lint and soap or degreaser residues behind as these things can prevent paint from adhering too.