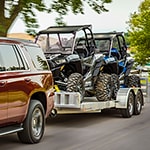 Safely towing a camper, trailer, or boat behind your vehicle requires proper knowledge. Use these tips from Lewis Motor Sales Inc to help you tow confidently.
We recommend checking your vehicle's manual for its gross combined weight rating. The GCWR varies by trim package, so check for your specific model. Remember to add all cargo and passengers when you calculate the gross combined weight.
Before any trip from the Lafayette, IN area with a trailer attached to your truck or SUV, plan your drive. Try to avoid construction zones, narrow sections of roadway, and other potential hazards. Also, for your convenience, visit your gas station to fill your fuel tank before you connect your camper or trailer to your vehicle. During your trip, keep to the right lane on divided highways. Give yourself extra clearance around turns, too. Lastly, anytime you need to stop, begin braking early.