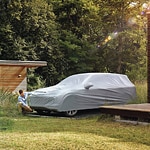 Are you debating whether or not your vehicle will benefit from a car cover? The team at Lewis Motor Sales Inc is here to share with you some of the reasons why you will want to invest in a high-quality car cover soon.
Sun exposure is more damaging to your car than you may realize. It can impact both the interior and the exterior, causing fading on your dashboard, paint, and even upholstery. A car cover can prevent this damage. It can also protect from wind and hail damage to an extent.
Drivers in Lafayette who want to spend less time washing their cars will love the benefits of owning a car cover. Animal droppings and tree sap can damage your paint, but a car cover will keep them from ever coming in contact with your car. A car cover may even encourage a thief to look for an easier target.