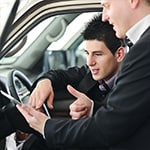 As one of our customers, we know you love to test drive our vehicles, and our Lewis Motor Sales Inc team wants to help you make the best use of each test drive. The following tips will help you focus on some critical aspects during your next test drive.
A test drive begins when you first set eyes on the vehicle. Look for signs of interior and exterior damage. Make sure any child safety seat and cargo anchor points are secure. Adjust the driver's seat and mirrors to maximize your visibility and comfort.
Listen carefully to the road noise and the engine when you take the vehicle onto Lafayette, IN roads. Drive the vehicle at various speeds and up some hills to test the suspension, steering, and handling. Firmly apply the brakes to ensure they can perform during a potential emergency.