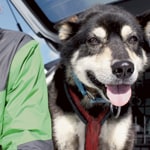 Pets play a much larger role in the family today with many owners in Lafayette, IN taking their pets with them when they leave home. Pets love traveling with their owners, but it's important that they travel safely. Here are some tips.
If you're planning on a long trip, don't wait until the last minute to get your pet accustomed to traveling. Bring along some extra water, but do not feed the animal prior to leaving home. Your pet should always be kept in the back seat in a pet-friendly crate.
Do not let your pet stick its head out the window. If you have to leave your pet in the vehicle, make sure the window is slightly open or the AC is on. Bring your pet's favorite toys or treats to make him or her feel at home. Don't forget to bring a lease, and always clean up after your pet.