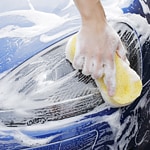 Lewis Motor Sales Inc wants Lafayette, IN motorists to understand the importance of keeping a vehicle's headlights clean. It is a safety risk to have fogginess or yellow stains, which are signs of oxidation, covering your vehicle's headlights. Thankfully, you can restore headlights to their full brightness at home.
Toothpaste, baking soda, and dish soap are three of the most common items that drivers use for the purpose of DIY headlight restoration. To clean your headlights with toothpaste, you will also require automotive wax, water, and masking tape. Vinyl or plastic gloves can also be helpful if your skin is rather sensitive. Using baking soda is much simpler because you'll just need to mix it with water before you begin cleaning your headlights.
If you wish to restore your vehicle's headlights with dish soap, then we advise using a sponge instead of a cloth. Dish soap and warm water are typically enough to remove most residue from headlights.