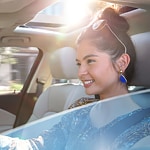 If you are looking to buy your teenager their first vehicle, odds are you have been checking out the used car market. This is a smart call in a lot of cases for teen drivers, but the team at Lewis Motor Sales Inc in Lafayette, IN would like to give you some tips on what to look for when picking one out.
Before anything else, you have to decide which vehicle type your teen would be best served by. Remember, heavier vehicles are typically considered safer, so try to steer clear of the subcompact sedan market. Once you have a few cars in mind, start researching safety scores and take note of any recalls that may need to be addressed.
It is now possible to get used vehicles with advanced driver assistance features. Some vehicles even have a "Teen Driver" feature that will allow you to limit their speed and radio volume when they are at the wheel.